Turn Your Forklift Into A Heavy Container Handling Machine
Delivering a huge 40,000 kg | 88,000 lb lift capacity, the C-Lift X Series is the world's most powerful container lifting jack. Your fast, safe solution for lifting heavy containers on and off truck trailers.

With the fully automated C-Lift X Series, all you need is a light forklift to transfer the heaviest containers between a chassis and the ground. By using a forklift to set up, the process is fast, safe, and easy, with just one operator and no physical effort required.

The X Series occupies a small 4m2 | 40 ft2 storage footprint. It is compatible with both standard and high cube containers, and the footplates are designed so you can handle containers on rough, loose, and uneven surfaces.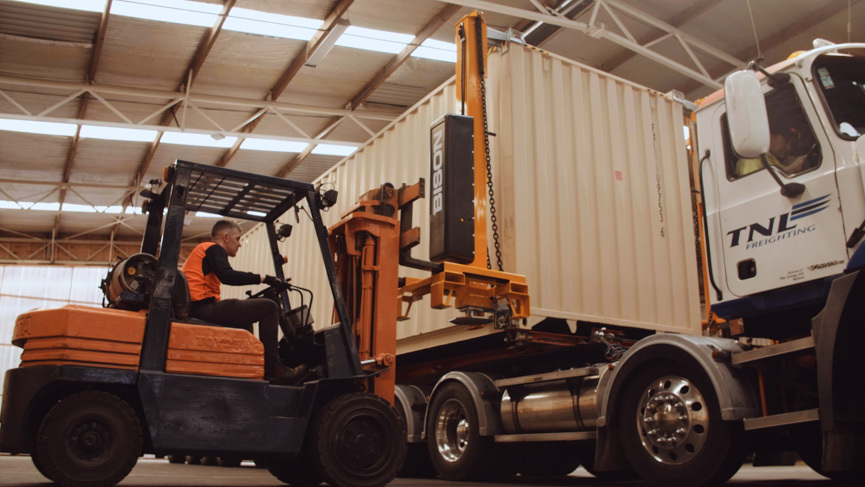 Fast & Automated Container Lifting
With an impressive lift capacity of 32 tonne | 70,000 lbs, the C-Lift A Series gives you the freedom to transfer containers between the ground and chassis - anywhere, anytime, for less.
Compact and portable, the C-Lift A Series is a tried and tested performer, that is easy to relocate, set up and operate. The A Series will equip you to offload containers anywhere on site - including indoors and in tight spaces.
Ideal for factories, warehouses, and facilities with low to medium container throughput, the C-Lift A Series is a convenient and cost effective alternative to third party cranes, and requires a fraction of the capital investment and running costs of traditional container handling equipment.

Container Handling Anywhere, Anytime
If budget, portability, and easy maintenance are your priority, the C-Lift M Series is a reliable option that is quick and easy to set up and simply gets the job done.
Capable of lifting up to 20,000 kg | 44,000 lbs, the C-Lift M Series is the simplest and most cost-effective container lifting jack in our range and an ideal tool for remote operations, military logistics, and sites handling low container numbers.
With no power supply required, and no electronics or hydraulics to maintain, the M Series is a reliable performer that will equip you to handle shipping containers anywhere, anytime, for less.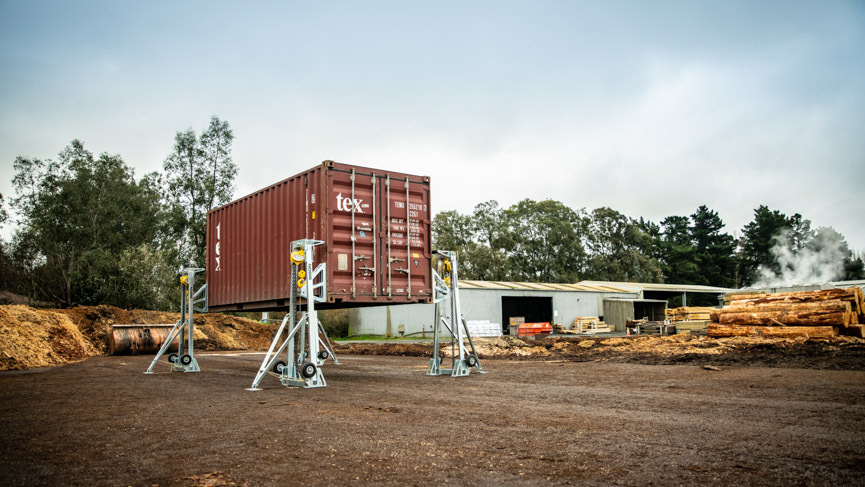 Mobilize Your Containers
Give your containers legs, and your team self-sufficiency with the Bison C-Lift T Series, a modular container lift system that retrofits to a variety of ISO containers.
For absolute independence and control, the C-Lift T Series equips you to rapidly deploy your valuable containerized assets, without the costs, delays, and downtime that come from relying on third-party vendors.

With lift capacities of up to 30 tonne | 66,000 lbs, the T Series is an ideal solution for defense applications, field services, emergency response, event logistics, and containerized energy.

Transform Buildings With No Dock
For buildings with no raised loading docks, the F Series makes it fast, safe and efficient to lift containers off chassis and move cargo in and out of your facility at ground level.
With a lift capacity of 32 tonne or 77,000 lbs, the C-Lift F Series is a bolt-to-ground container hoist that can be integrated into your building design, and replicated across multiple ground-based loading areas.

Unlike our other portable container lifting jack models, the F Series is fixed in place. This design offers enhanced safety, through the use of permanent guide rails and bollards, and faster container turn times, taking just 6 - 8 minutes for one worker to set up and complete a full container transfer.